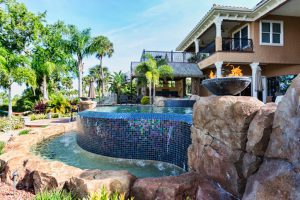 There are some wonderful ways to entertain guests in your home and yard, but a swimming pool is always a favorite amenity for entertaining. Whether you are hosting kids, teenagers, or adults, a pool provides endless hours of fun. They're great for playing or even exercising in, and for cooling off and relaxing nearby. There are so many ways to wow your guests. If you're in need of some backyard pool ideas to inspire you, look no further.
Check out some of these awesome backyard pool ideas:
Infinity pool –These give the illusion that the pool doesn't end and they look stunning.
Waterfall — These are always a beautiful addition to the pool landscape.
Glass wall –You can have multiple levels of your pool or from a spa to your pool separated by a glass wall.
Fire pit –A pit can give you a central spot to sit around and chat, watch TV, or just stay warm on cooler nights.
Surround sound system –Listen to music, or anything else you want, and hear it from anywhere in your yard.
Indoor/outdoor pool –Have an indoor pool that is able to convert to an outdoor pool and you can enjoy this amenity year-round and in any kind of weather.
Pick some of these to add to a pool you already have, or to include with the pool design you're creating. Your guests will be amazed when they see what you have in your backyard. Use these backyard pool ideas to spruce up your entertaining space and most importantly to create an absolute oasis for you and your family. You will not regret improving your backyard with one or more of these ideas.