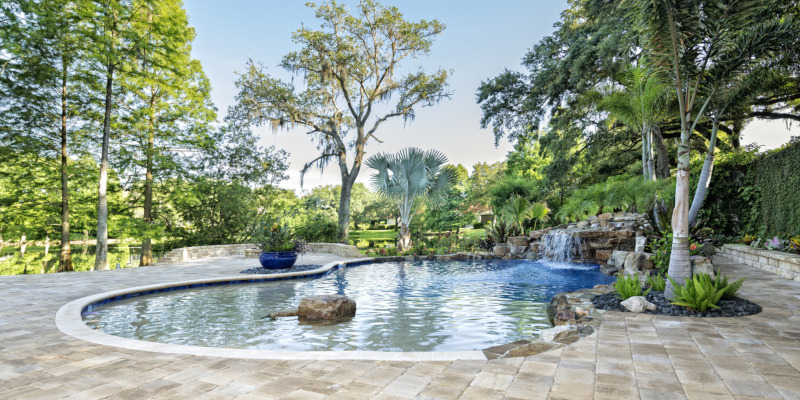 Here at Pool Blue Inc., we are more than happy to go over our previous design work with you to help you create a reality from your list of backyard pool ideas. We're happy to help you get the juices flowing early on in the process. We want to turn your dreams into your paradise! Whether your dream is simple or complex, we are here to help you make it a reality. Here's a short list of three backyard pool ideas to help you get started, but just remember we've got a whole lot more where they came from, with over 20 years of experience in the Lakeland, Florida area. Call for a consultation today for more ideas on building the backyard pool of your dreams.
Have you thought of enclosing your backyard pool using screening? Do you want to protect you kids from pests and sunshine while they play in the pool? Are you looking for a thoughtful spot away from the bugs? Want your pool furniture to stay clean a bit more effortlessly? Screening may be the perfect addition for you to include in your pool construction plans.
Have you thought of adding a water feature to your list of backyard pool ideas? A fountain or waterfall may be the first things that come to mind, but you can also add things deck jets, sheer arcs, and in-pool-spas. Deck jets, for example, can be backlit with LED lights and add the calming sound of running water along with a sweet visual aesthetic as water flows into the pool from just above the edge at the places you select.
Have you thought of adding a bench – in the deep end? These narrow benches are called swim out benches. It is a way of adding a fun look to your pool with a practical use. These benches add to ease of entry into the water from the deep end, without requiring a perfect shallow dive, as well as a comfortable place to recline submerged in your pool for hours of relaxation.