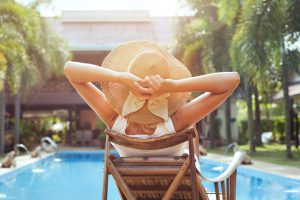 Swimming pools are increasing in popularity all the time. They are a great way to entertain guests and to casually host events. Swimming pools are even a great place for adults and children to be entertained at the same time.
There are so many benefits to having a swimming pool in your own backyard, and here are just a few:
Swimming is a great way to stay in shape, but it can also be really difficult and time consuming if you don't have a pool just outside your backdoor.
With constant improvements in technology, it is getting easier all the time to maintain a pool.
Having a swimming pool allows you to create a pleasant entertaining environment without having to host people in your home. It is much less work when you can host an event outdoors, but if you don't have a pool or central way to entertain outside it isn't as enjoyable. You can also host a lot more people if you have a pool.
Swimming pools can provide a great place to relax at home.
Adding a pool to your backyard is a great return on your investment since it will increase the value of your home dramatically.
With all of these amazing benefits, it is hard to not want your own swimming pool. It is worth the effort to maintain a pool when you are able to experience these advantages in your own backyard. Make plans to have a pool installed in your yard, and it will be an investment that you'll never regret.