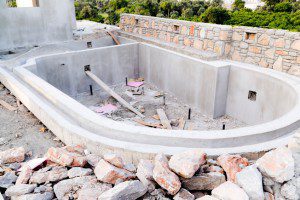 Congratulations! You've decided to have a beautiful swimming pool installed in your backyard. Installing a swimming pool is a big decision, and you'll want to make sure it's done right. That's why you want to be sure you select the right swimming pool builders for your job. It can be intimidating to choose your swimming pool builders when there are so many options to choose from. Here are a few things to consider as you are deciding which builders are right for you.
Portfolio– Think about the type of swimming pool you want and compare that to the builder's previous work. You should be able to see examples of pools the builder has installed before on their website. You'll likely be more satisfied with the end result if the style of pool you want is similar to the builder's typical style. Here at Pool Blue Inc., we specialize in customizing your pool to your exact specifications.
References- Get references from people who have worked with the builder before. A good pool builder should have a long list of satisfied customer recommendations that he is eager to share with you. If you call the references to ask about the builder's work, you should ask if they worked on any of the same projects you plan on doing with your pool. That way, you can see if they were satisfied with the specific projects you have in mind. You can also ask if you were satisfied with other aspects of their service, like being timely, professional, easy to get a hold of, and other things that are important to you.
Credentials- You want to be sure your pool builder is licensed and insured to do the work. You'll also want to check and see if they are capable of building the type of pool you have in mind. Be sure to discuss any special projects you are considering, and make sure that what you want isn't outside their abilities.
We are confident that we will be a great fit as your swimming pool builders. Contact us today, and we'll get started on your dream swimming pool.