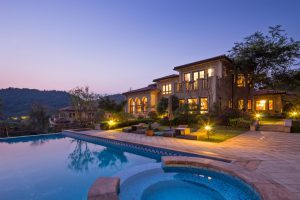 Pools are becoming more and more popular as a backyard amenity. With enhancements in pool designs and improvements in technology for properly cleaning pools, they will only become more common. Having a pool for recreational use can be such an amazing thing to have in your backyard because you are able to relax and entertain all in one place. A pool can also beautify your landscape, especially if you spend some time researching pool designs. If you select a unique design you'll love your pool that much more.
Consider these fascinating pool designs for your backyard:
An infinity pool creates an illusion of merging into the horizon beyond your backyard. This creates an absolutely gorgeous paradise-like view.
You can design a pool and spa that are built at different levels with one above the other. Or, you can have the spa draining into the pool.
Adding in a variety of waterworks, such as a waterfall, water fountains, sprinklers, or even a splash pad are several great ideas for a pool.
You can create a party pool with accessories like a slide, a diving board, underwater lights, a pool bar, jets, etc.
Selecting one of these amazing pool designs will greatly improve the aesthetic appeal of your yard. Putting in a pool will also limit the yard work that you have to keep up with, especially if you choose a design that takes up a lot of the yard. There are so many different great ideas, so pick something that you'll enjoy and that will be unique and fun.