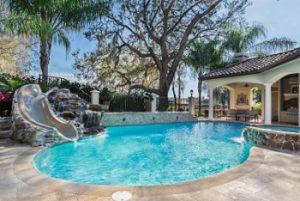 Swimming is such a versatile physical activity. You can choose to swim for pleasure, to improve personal fitness levels, or for competition. Regardless of the reason why you choose to go swimming, it provides your body with the chance to utilize every muscle, which allows you to stay fit. As you are well aware, having a fit body gives you the freedom to enjoy all aspects of your life. Enjoying life to the fullest could be seen as living in your own paradise. So, you could say that having a pool provides you with your own personal oasis.
If you truly enjoy time in the pool, you may be wondering exactly what it would take to get an inground pool at your home. Fortunately, the answer is that if you have the desire, our custom swimming pool builders can build you a pool that will help you to create your own little piece of paradise.
When you call on our custom swimming pool builders, you can rest assured that we will listen carefully to your vision for your pool and work hard to create the perfect pool that matches what you have in mind. We can also show you pictures of other inground pools that we have built, and provide you with suggestions that will allow your pool to service all of your needs. We are committed to providing you with a pool that will allow you to relax, entertain, or improve your skills, whatever your desire may be.  We are also skilled at both indoor and outdoor pool installation, so regardless of where you want your pool, we can provide you with the perfect setup. Once you have your own pool, you will be amazed at how easy it is to take a swim whenever the urge strikes you.
At Pool Blue Inc., our custom swimming pool builders stand ready and waiting to construct your pool and create your paradise. If having your own personal paradise sounds appealing, contact us today.