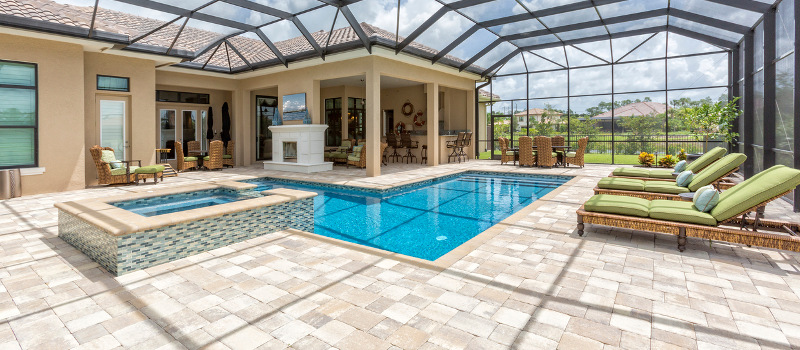 If you are considering having a swimming pool installed, you might be wondering about the cost and how much value it will add to your home. Pool builders will give you an estimate for building the pool, which will include things like permits, excavation, materials, labor, and pool equipment. They can also be your best source for understanding potential ongoing pool costs to be sure you build a pool that doesn't blow up your monthly budget.
A properly designed pool that works well for your neighborhood and property could boost your home's value by 5 to 7 percent, allowing you to recoup some of the initial construction costs. It is the monthly costs that you are not going to get back, so these costs should be considered carefully during the planning stages. This is the time to adjust the pool design rather than struggle later.
Unless you are going with an indoor swimming pool, you are going to need an enclosure. A screened pool cage, or equivalent, is a code requirement and will add considerable cost to your project. It also has benefits, however, such as reducing debris in the pool and warding off mosquitos and other pests.
Maintenance costs to consider include chemicals, utility costs for running the pump, pool service if you won't be taking care of the pool yourself, and occasional filter replacement. You'll also deal with repair issues from time to time.
All in all, the added costs to have a swimming pool don't detract from the incredible benefits of having a pool, which is why so many homes in Lakeland, Florida have one. When you are ready to make this valuable investment in your home and your family's enjoyment, the best pool builders to call are the professionals here at Pool Blue Inc. As pool builders, we have more than 20 years of experience and are ready to build the pool of your dreams.