You've been considering getting an inground swimming pool, but you're not quite ready to pull the trigger just yet. Having a pool is a pretty big commitment, after all. As pool experts, we know all that goes into owning a pool, and we are confident that you will love yours. Here are 5 reasons why you should have an inground swimming pool installed in your backyard.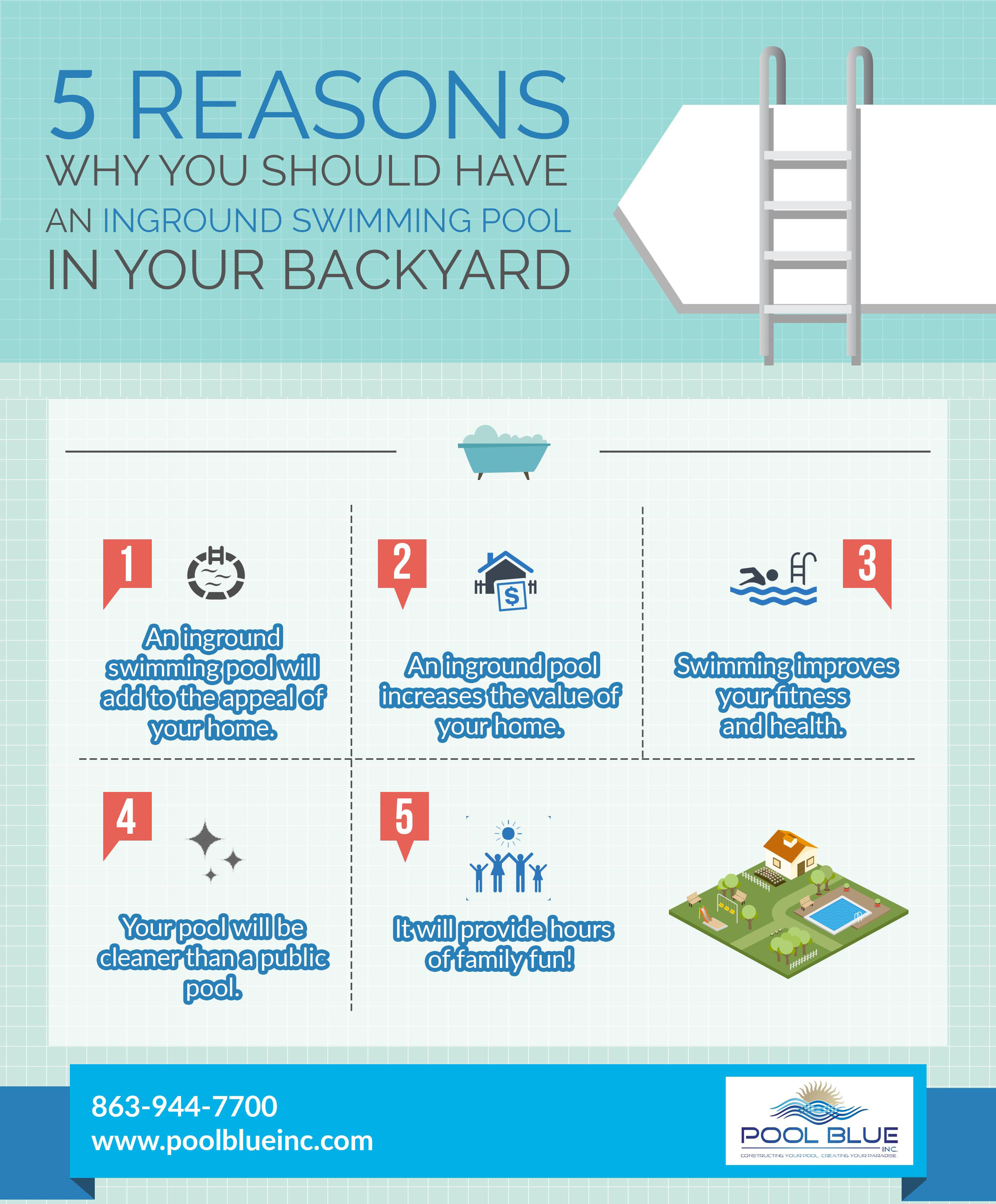 1.  
An inground swimming pool will add to the appeal of your home. Custom-designed pools are beautiful and elegant and are as much a part of the look of the home as the landscaping or paint color. A beautifully designed inground pool is highly attractive and significantly adds to the outdoor living space. A backyard may go virtually unused without it, but with it, the backyard becomes a main attraction of the home.
2.  An inground pool increases the value of your home. The value of your home will increase about 5-10% with an inground pool.
3.  Swimming improves your fitness and health. Using your pool is a great way to burn calories and get in shape. Casual play and just being active in general is good for your heart and body, and you'll get more of a workout than you realize just goofing around with your kids. Of course, if you're more serious about your exercise, you can also use your pool to swim laps or do water aerobics. Pools are also great stress relief from the exercise you get and the social interaction with friends and family.
4.  Your pool will be cleaner than a public pool. You never know what germs might be hiding in a public pool . . . But if you properly maintain your private backyard pool, you can rest assured that your pool is clean and safe to swim in.
5.  It will provide hours of family fun! Swimming in the pool is a bonding experience that all family members enjoy. Owning a pool is a great way to get the family away from the electronics and interact with one another in a fun, enjoyable way. If your kids are moved out of the house, the pool is an attractive reason to get your kids and grandkids over for a visit. Everyone will agree—inground swimming pools are fun!
We know you will love having an inground swimming pool in your backyard. Give us a call at Pool Blue Inc., and we'll help make your dream a reality!