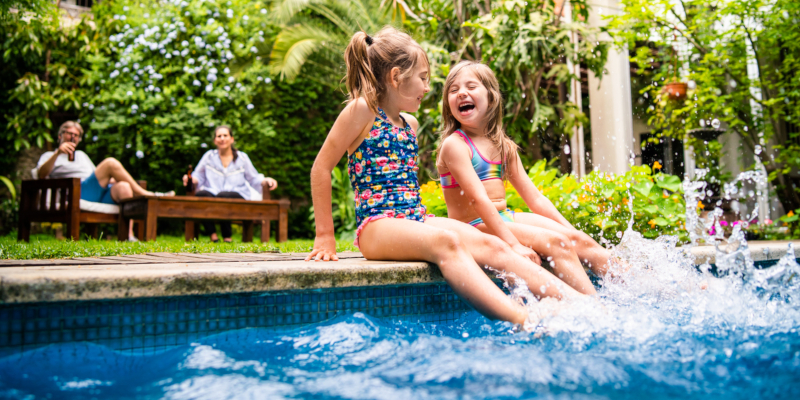 As time goes on, trends come and go and fashions change, and this goes for just about everything–clothing is the most obvious example, but it's also true of cars, home architecture, and swimming pool designs. Our team at Pool Blue Inc. wants to help you create the perfect pool for your home, one that works with your space needs and matches your design tastes. In this article, we'll be going over three fresh, modern backyard pool ideas to help you get started.
1.  Tropical Getaway. One of the most popular backyard pool ideas is to create a mini tropical getaway in your space. Among the most popular reasons to get a pool is to give yourself a place to relax and unwind, so why not take that idea further by tuning your pool into your own personal tropical resort? To execute this idea, you'll need top-notch pool designers, builders, and landscapers, and you can turn to our team at Pool Blue Inc. to get the expertise you need.
2.  Private Oasis. While some homeowners want to make their home look like a resort, others want to take things a step further and create the look and feel of a natural private oasis. These types of backyard pool ideas typically involve adding additional features such as a waterfall, as well as using a greater number and variety of plants to create a wilder look.
3.  Backyard Water Park. A third example of popular backyard pool ideas is one that's a favorite among children–namely, creating a miniature water park. While clearly you won't be able to install the high-intensity rides of a real tourist attraction, including a small slide is a great way to make your pool even more appealing to your kids. If this idea appeals to you, our team at Pool Blue Inc. is here to help you make it happen.