We have been in the custom pool construction business in Lakeland, FL for more than two decades.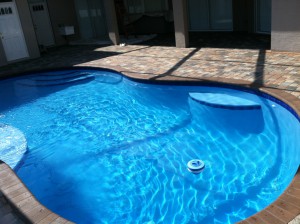 If you have a swimming pool at your home, you probably have a much higher property value than your neighbors who don't have pools. Swimming pools also offer many other benefits, including an oasis at your own home where your family and friends will enjoy spending time. Since the weather here in Lakeland, Florida is generally warm and humid, swimming in your pool is also a cost-effective way to cool down and enjoy time outdoors. Since we live in a technologically driven time period, many parents are looking for ways to interact with their children that don't involve iPods, cell phones, or computers. Spending time in the swimming pool is a great way to unplug and have a lot of fun!
At Pool Blue Inc., we offer custom pool construction in the Lakeland, Florida area. We have been in the custom pool construction business for more than two decades, so we understand the needs of our clients. We want to make sure that your expectations are met throughout each step of the custom pool construction process, so we work closely with you to ensure that you understand the plan.
Since our team specializes in custom pool construction, we are the company to call when you are ready to add an oasis in your own backyard. We have built thousands of pools for homeowners throughout Lakeland and many of the surrounding cities. Whether you dream of a simple place to relax and hang out with loved ones, or a large and sparkling swimming pool with waterfalls and other unique components, we can transform that dream into a reality.
For more information, contact us today!

Similar Services We Offer: