We have over 20 years of experience in the construction industry and would love to help you design and build your new swimming pool!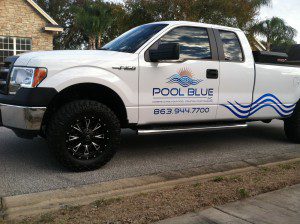 At Pool Blue Inc., we have a team of swimming pool experts who can design, construct, and install pools for homeowners in and around Lakeland, FL. The services that we offer include new swimming pool construction, inground swimming pool design and construction, installation of designer swimming pools, heated swimming pool construction, and adding enclosed swimming pools. We also offer paving services for pool decks in a variety of materials. We have been building swimming pools in the Lakeland area for more than 20 years, and our owner has many years of experience with the design aspect of the process.
We are open from 8:00 a.m. until 6:00 p.m., Monday through Saturday. We accept cash, check, credit cards, and debit cards as forms of payment for your new swimming pool. Our service area includes all of Polk County. If you have a specific idea of how you would like your pool to look, we offer custom pool construction to create a one-of-a-kind look that no other pool can match. In addition to construction of outdoor pools, our team can also build indoor swimming pools in homes where there is enough space.
Our team of pool builders has worked on various pool designs and styles, so we can certainly create a pool that fits within your budget as well as in the space you have available. At Pool Blue Inc., our mission is to construct your pool, create your paradise. When we build a swimming pool in your backyard, you can start enjoying the benefits immediately. Contact us today to get started!